Sunbeam Tiger Project Homepage
Return to Mayfield Motor Sports Homepage

History and Current Status
Our Tiger was born, according to the Book Of Norman, in October of 1964. It was sold to a buyer in Ventura, Ca. in 1966 and is therefore titled and registered as a 1966 Sunbeam Tiger. I purchased the car, as the second owner, in January of 1967 and have owned and maintained it ever since. The Tiger has had a long and sometimes hard life, having been driven to work as a daily driver, being drag raced for the Ford Drag Club, autocrossed to death, and towed all over the country. Our Tiger is now resting and is having her wounds repaired, although for an old beast that is (as of Oct 27th, 2004) 40 years old, she is in remarkably good shape, and purring.
Vital Information
Date of Completion at Jensen Factory: October, 1964
Chassis Serial Number: B9471136 LRXFE
Color Code: 58 - Midnight Blue
Import Tag: JAL 560644 (Sun 66)
Model Number: C4PZ-6001-CF (Valve Cover)
S.O. Number: SO-2632
Picture Gallery (Use 'Back' key to return to this page)
The Tiger's History:
Driven to work at Vandenberg AFB, 1967 to 1968
Modified for drag and autocross racing - 1967

Drive train has Ford HEH-E Toploader and 4.55:1 rear gear ratio with limited slip
289 cubic inch motor

Ported, polished heads
Hypo Crank
Crane Max HP Ram Sonic (314 degrees of duration - yeo!) Cam
Edlebrock F4B manifold
Holley 750 Double pumper
Screw in valve studs
Big valves
Jahns 12.5:1 forged pistons
Balanced
Shot peened rods
ARP rod bolts
Boss 302 Damper
Bellanger headers (original LAT Option)
Boss 302 Pan and Windage Tray
Dual Point Distributor
Carb Velocity stacks (tuned length for max HP)

Suspension changes

Seven inch wide wheels
Goodyear Blue Dot racing tires
Shocks from Traction Master (special made)
7/8" front sway bar
5/8" rear sway bar
Radical Front fender flairs and moderate rear flairs
Original LAT Traction Master Bars

The Tiger was campaigned pretty hard in the late 60's and at one time could run C gas in the mid 11's and 120ish mph. Time has fogged my memory some, so be gentle. I do remember, however, that the front wheels could be pulled in 1st, 2nd, and 3rd on occasion. Really made people look!

It did not take me long to find out that you cannot drive your race car and you cannot race your daily driver. So, I returned the Tiger back to nearly original condition. The stock motor, a 260 cubic inch, two barrel Ford carb, and a more sedate 3:54 gear ratio. It still has the headers, though, and I still have the 289 resting quitely in the Pahrump, NV Snnbeam work shop. One day I will rebuild it and put it in another car (hmmm, a Series IV Alpine Maybe?) or maybe back in the Tiger with low compression pistons and a turbo

Since 1975, when we moved to Seattle, the car has been resting. In 1997, I replaced all of the old rubber and gaskets, installed new seat vinyl, reupholstered the center console. I've had to rebuild the clutch slave cylinder and the vacuum boost brake unit (Girling 7"). I removed the front crossmember and inspected, re-welded any suspect weak spots. I replaced all the front suspension bushings, tie rod ends and ball joints. The original electric fuel pump went away a long time ago and was replaced with a new solid state unit. I replumbed it to elimnate a lot of flexibility in the fuel lines and to reduce noise (that blasted thing runs pretty near continously!).

In all the years I have owned the Tiger, it has always been titled and licensed for the road. You never can tell when you might need a good Tiger..My wife and I are now beginning to drive it to special functions, such as club meetings and golf. By the way, the paint on the car is Omaha Orange, a 1969 Plymouth color. I had it cherried out and painted because it was hard to see and people would park next to me and ding it with their car doors. The car was originally Midnight Blue.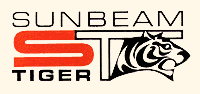 Copyright (C) 1997 - 2004, all dates inclusive - L.E. Mayfield - All Rights Reserved
Return to Mayfield Motor Sports Homepage